Local Happenings and Fun Activities in Holmdel and Monmouth County
When the weekend rolls around, have you ever wondered "What's happening near me?" You're not alone; no matter the season, Holmdel residents are looking online to find out things to do in Monmouth County.
Our list of local happenings can help you find fun activities of all kinds, including the Monmouth County Fair, a mid-summer tradition. But, there's also a serious side to this list of local happenings, as it features community-wide remembrance events, hospice fundraisers and other charity events.
Do you know of an upcoming local happening? If there's an upcoming local event which would be of interest to anyone living in Holmdel Township, please call us at (732) 946-3322 or send an email using the form on our Contact Us page. Please provide us with accurate information about the event, in as much detail as possible (as well as a way to contact you if we have questions). Thank you for your assistance in making this list of things to do in Monmouth County accurate and up-to-date.
May 2017 Events
Mary's Place by the Sea Walk-a-thon 2017
May 20, 2017 11:00 AM to May 20, 2017 03:00 PM
EVENT DATE: MAY 20, 2017
FUNDRAISER SET UP DEADLINE: MAY 20, 2017
Sat, May 20, 2017
11:00 AM – 3:00 PM EDT
Mary's Place by the Sea is pleased to announce its 6th Annual Walk-A-Thon! Let's walk together to help women with cancer heal: mind, body and soul. Since beginning our mission in 2009, we have supported almost 7,000 women, FREE OF CHARGE because of your support! As one guest writes:
Cancer takes some things away from you. Mary's Place helps you get them back! – M.M.
Join us Saturday, May 20, 2017 at Ocean Avenue and Ocean Pathway in Ocean Grove, NJ. Please take a moment to REGISTER, CREATE A PAGE, and SHARE with your friends and family and help us sustain our mission for years to come!
A heartfelt sentiment of another guest:
"I went in weak and drained but I left refreshed, strengthened, and encouraged. I enjoyed my first full meal in nine days - a very delicious and nutritious meal. I was impressed with the warm hospitality, empathy, and love." -T.M. This event is rain or shine.
Registration is:
$40 (ages 18 and older) receives an event day t-shirt

$25 (ages 10-17) receives an event day t-shirt

FREE (under 10 years of age) will not receive a free t-shirt
We can only guarantee a T-shirt to participants who pre-register by May 6, 2017. Prizes will be awarded to the top 3 individual and team fundraisers. Free food and beverages for all participants
Music

Vendors

2.5 mile course
SPONSORSHIP and VENDOR OPPORTUNITIES are also available! For further information, please contact Clare Freda at 732-455-5344 or cfreda@marysplacebythesea.org.
Thank you for your support…we are grateful!
Michele Gannon & Maria McKeon
Founders
Mary's Place by the Sea, Inc. is an IRS-recognized nonprofit organization 501 (c) 3 Tax ID: 26-4736451
Mary's Place by the Sea is a respite home for women who are receiving treatment for cancer. We provide services that complement their medical treatment, including oncology massages, nutrition education, individual counseling, Reiki, guided meditation, expressive writing, and yoga. Mary's Place by the Sea is not a medical facility with medical staff. We offer integrative services to women with cancer and provide rest and support during this challenging time in their lives. They are empowered with knowledge that will aid them on their road to healing.

Since 2009, nearly 7,000 women with cancer have become "guests" of Mary's Place by the Sea.
Our new home is located at 22 Main Avenue in Ocean Grove. Please call 732-455-5344 for more information.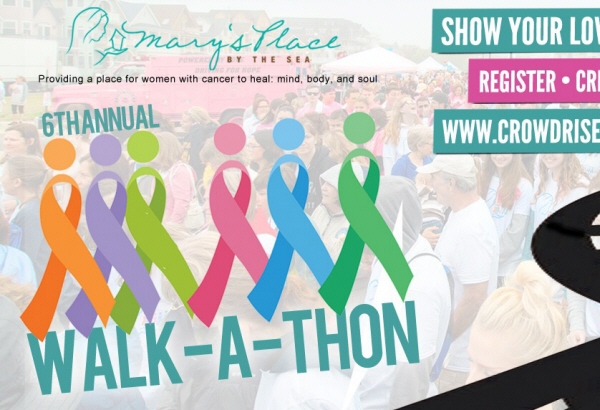 June 2017 Events